Lifestyle
Beauty Editor House Tour: Jean Godfrey-June's Clean WFH Routine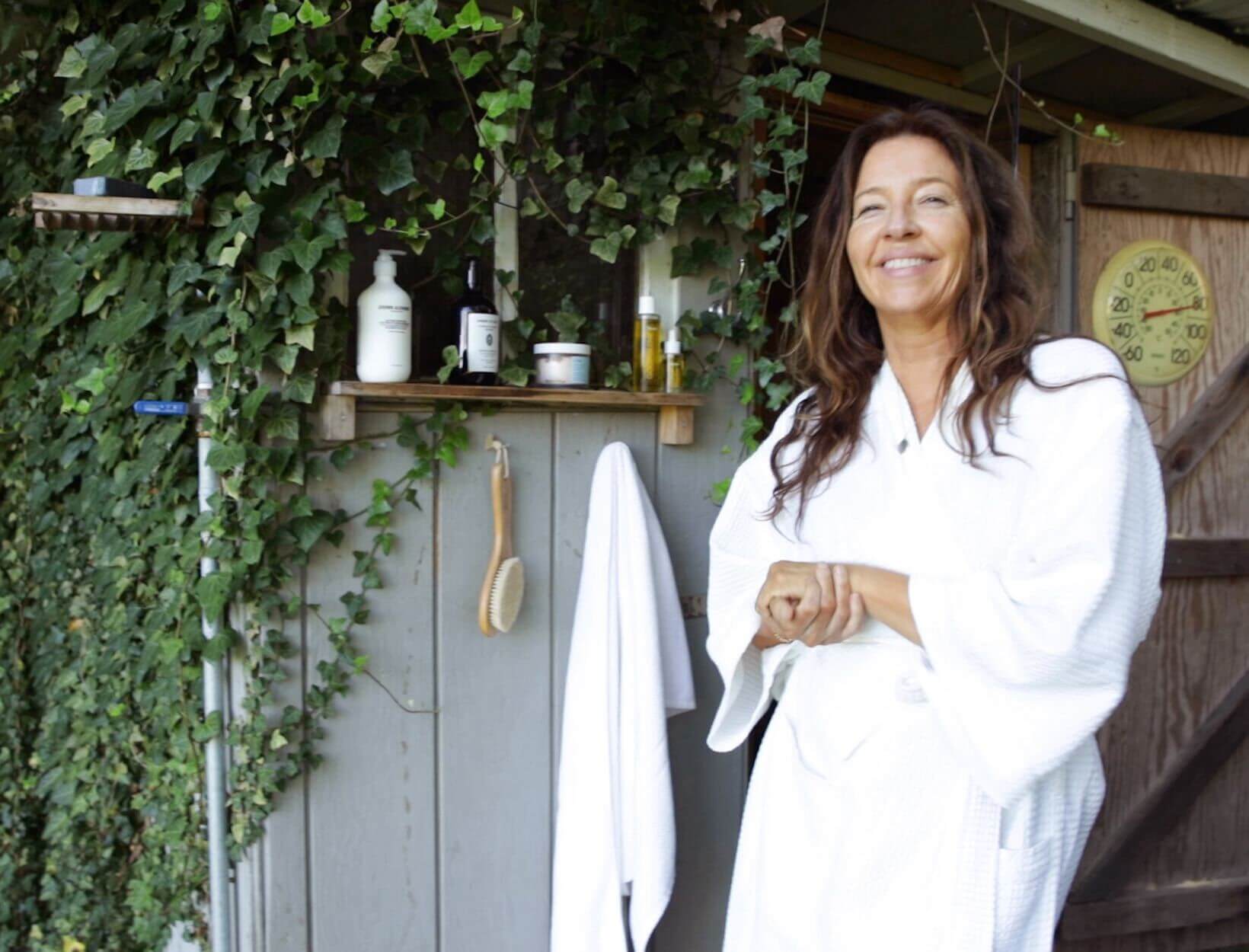 Beauty Editor House Tour: Jean Godfrey-June's Clean WFH Routine
Written by: Jean Godfrey-June
|
Published on: November 22, 2022
If it's clean and even vaguely beauty-related, I've tried it—or I'm in the process of doing so. And if I'm trying a beauty product, home (where I've worked since the start of the pandemic ) is where it happens. Every day, boxes of beauty products arrive in the mail—which is sort of like getting a present and sort of like getting a pile of work.
What's on My Kitchen Island
I unwrap and initially edit through all the new ones on a table in my kitchen. But I also keep a few beauty essentials in the kitchen—I'm always in there, so why not moisturize? Here's what I cram onto my center island along with the spoons and spatulas.
1
In the mornings, I put on vitamin C (see below), then run downstairs to make coffee. Once the vitamin C has really sunk in to do its work, this amazing treatment cream is next.
2
Five or ten minutes after that, I might need an extra layer of moisture (I'm 58), in which case I pat on this incredible oil from Annee de Mamiel. She makes a totally new oil tailored to each season, and you have to try this one to understand how fantastic it is.
3
I'm obsessed with lip balm. I keep the new pinky-brown tint from the goop lip balm trio in the kitchen—it's sheer enough that I never need a mirror.
Augustinus Bader
The Rich Cream
goop, $280

SHOP NOW

de Mamiel
Winter Facial Oil
goop, $135

SHOP NOW

goop beauty
GOOPGENES Clean Nourishing Lip Balm Trio
goop, $48

SHOP NOW
What's in My "Office"
My office is just a desk next to an extremely comfortable chair in my living room. People on Zoom or Teams always say, "Oh, I love your background," and it's mostly a ficus tree that looked dead when I bought the house but perked right up with a little water and sun. Plants make me feel like a space is alive. New York in the winter is really grim—having plants inside keeps me going with some California vibes. I'm always sitting there in what was my grandmother's favorite chair (people scoff at it until they've sat in it, and then they understand), writing, editing, or doing meetings. I also test a lot of beauty products there. But beyond what I'm testing, I keep a few essentials within reach.
1
You know those meetings where everyone turns off their camera? My favorite thing to do: I'm obsessed with this very new, very cool laser called the LYMA. You just hold it on a wrinkle, wherever it is, for three minutes. And so you can absolutely participate in your meeting, but at the same time you're doing the LYMA, which, when you see the before-and-afters, it's crazy—especially the one that shows results on a person's knees.
2
Before any meeting, I swipe a little Kosas Rosewater on my lips—and then dab a little from my lips onto the apples of my cheeks. Back in the days of having an office, we (the whole goop NYC team) used this trick and then were always asking one another, "Wait. Did you get your makeup done?"
3
I put sunscreen in multiple spots in my house, but it's especially key in the office, because it's a super sunny spot. I smooth it between the backs of my hands after I wash them.
Lyma
LYMA Laser Starter Kit
goop, $2,700

SHOP NOW

Kosas
Weightless Lip Color in Rosewater
goop, $28

SHOP NOW

Human Race
Ozone Body Protection Cream SPF 30
goop, $52

SHOP NOW
What's on My Bathroom Sink
My upstairs bathroom is where the lion's share of the beauty research happens. There are a lot of beauty products in there. It's a little crazy, but it is my job. I also have all the elements of my regular routine up there:
1
I don't cleanse in the mornings. I used to have oily skin, so I cleaned all the time. But I don't need to anymore. So the first thing I do—and everybody should do this, whether you're 17 or 87—is vitamin C. This vitamin C in particular is made with moisturizing hyaluronic acid, and you mix it when you first get it, so it stays potent. It makes a noticeable difference in how alive you look. Start using it and, After a week or two, and somebody will be like, "What are you doing to your skin?"
goop beauty
GOOPGLOW 20% Vitamin C + Hyaluronic Acid Glow Serum
goop, $125/$112 with subscription

SHOP NOW
2
I do cleanse at night. I start by taking off eye makeup, if I'm wearing any. There are hardly any clean eye makeup removers, and this one not only exists but is fantastic. It's from Grown Alchemist, and it really works. Then I cleanse. I've been testing this new brand called DAMDAM. I'm also super into the GOOPGLOW exfoliating jelly cleanser; I alternate. The jelly cleanser is so gentle, but it also makes me feel like I've got everything off  my skin.
Grown Alchemists
Detox Eye-Makeup Remover
goop, $35

SHOP NOW

DAMDAM
Osoji Cleanse Ritual Duo
goop, $86

SHOP NOW

goop beauty
GOOPGLOW Cloudberry Exfoliating Jelly Cleanser
goop, $35/$25 with subscription

SHOP NOW
3
Sometimes I tone with this essence from Furtuna Skin. It's gorgeous. In a pinch, it works as a (milder) eye makeup remover, too.
4
I got to test this superstar for a couple of months before it launched, so I am really seeing the benefits: It helps with all the effects of sun damage, from uneven skin tone and rough texture to wrinkles. What's amazing is that it's made with time-released alpha hydroxy acids , so you get an immediate exfoliating benefit, and then, overnight, it works and works and works. It's able to go further and do more but not irritate your skin. I smooth it on most nights right before bed.
5
If my skin is especially dry after Sleep Milk or if I've just put on vitamin C and I'm needing moisture, I wait a few minutes, then smooth on this face creamwhich delivers treatment (peptides, ceramides, botanicals) with the hydration.
6
I love a bath in the evening, and I really love "The Martini." Twenty minutes in the tub gives me a great sweat and some time to read.
Furtuna Skin
Acqua Serena Micellar Cleansing Essence
goop, $85

SHOP NOW

goop beauty
GOOPGLOW Dark Spot Exfoliating Sleep Milk
goop, $98/$89 with subscription

SHOP NOW

goop beauty
GOOPGENES All-in-One-Nourishing Face Cream
goop, $98/$86 with subscription

SHOP NOW

goop beauty
"The Martini" Emotional Detox Bath Soak
goop, $40

SHOP NOW
The Sauna That Was a Shed
We (I say we, but I really mean my boyfriend) built this sauna during COVID out of some Craigslist parts and a very old, very broken-down shed. We go in it almost every single day.
goop beauty
GOOPGLOW Restore + Shine Hair Serum
goop, $55/$44 with subscription

SHOP NOW

goop beauty
G.Tox Ultimate Dry Brush
goop, $25

SHOP NOW

Okoko
Sublime Balm
goop, $83

SHOP NOW

goop beauty
GOOPGLOW Afterglow Body Oil
goop, $48/$43 with subscription

SHOP NOW
The Ice-Cold Outdoor Shower
We improved upon the sauna by adding a cold shower—it's a garden hose attached to a $40 rain showerhead from Amazon—for the full Wim Hof ​​effect.
1
The key here is Microderm: one for face, one for body. You get both physical and chemical exfoliation to smooth away dead skin for an incredible glow. I leave the face version on for about two minutes while I do the rest of the shower. (Yes, it is cold! But I watched this episode of The goop lab and I'm convinced.)
I exfoliate and cleanse all over with this scrub-bodywash combination. It smells so good, feels so good—it's a tube of full-body happiness.
goop beauty
GOOPGLOW Microderm Instant Glow Exfoliator
goop, $125/$112 with subscription

SHOP NOW

goop beauty
GOOPGLOW Microderm Instant Glow Body Polish
goop, $48/$43 with subscription

SHOP NOW
2
Since the serum has been in my hair for 20 minutes in the sauna (the HubermanLab podcast, which goes through all the science, recommends 20 minutes for a first pass in the sauna), now is when I wash it out. Scrub shampoos often leave your hair kind of dry, but this one is moisturizing. Your hair is so soft afterward—especially combined with the effects of the serum.
3
This frizz-obliterating conditioner is super nourishing, smells amazing, and rinses right out, and I love, love, love the packaging. Anything Grown Alchemist is hard to resist, but this is the ultimate.
goop beauty
G. Tox Himalayan Salt Scalp Scrub Shampoo
goop, $55/$38 with subscription

SHOP NOW

Grown Alchemists
Anti-Frizz Conditioner 0.5
goop, $50

SHOP NOW
SHOP CLEAN BEAUTY

Related Reading
My Morning Routine: A goop Beauty Editor's WFH Essentials
Gwyneth's Morning Skin Routine
Why Our Beauty Director Spikes Her Morning with Ashwagandha and Fish Oil