Lifestyle
The Rentmeester Twins on "Dry and Neglected" Skin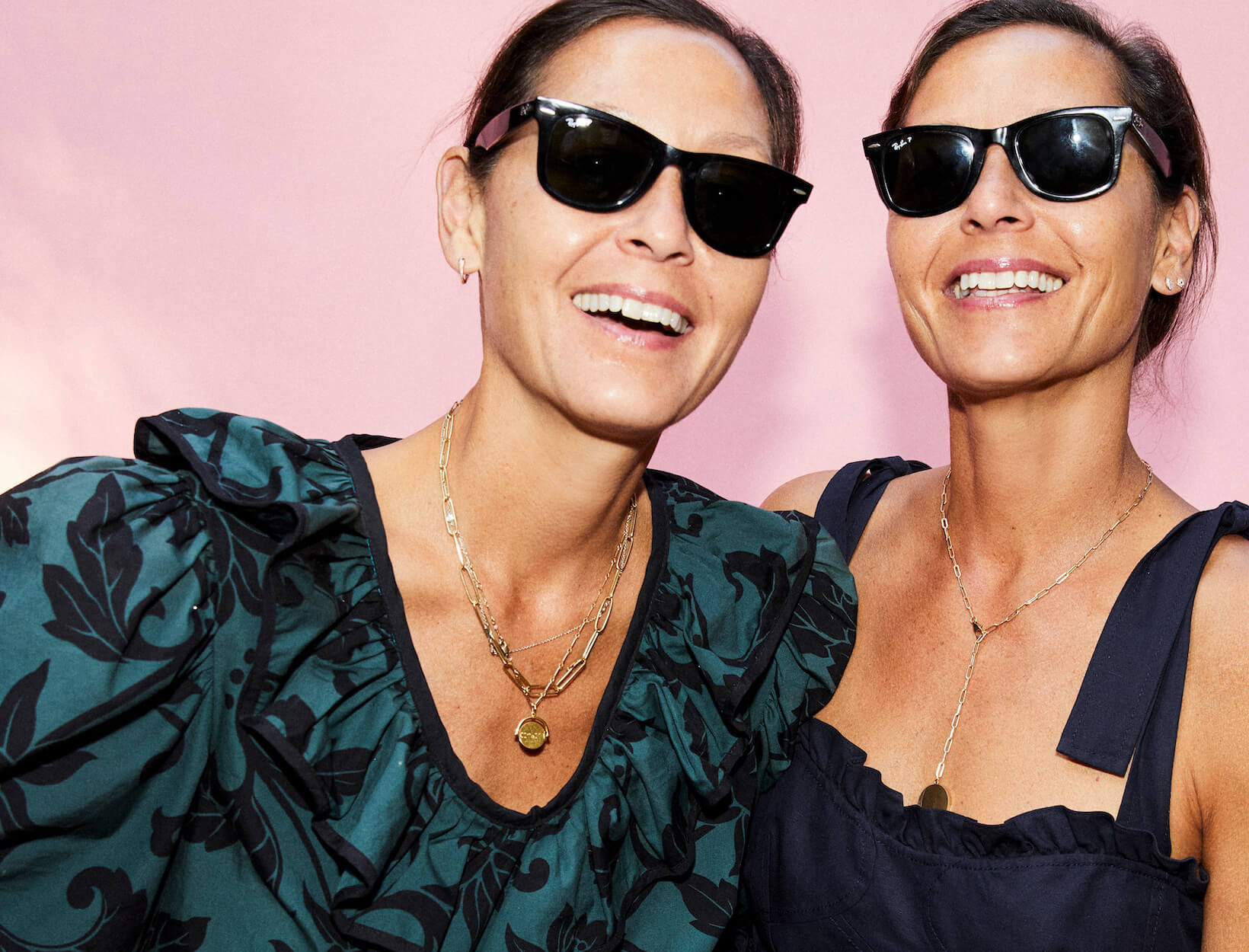 My Sister
The Rentmeester Twins on "Dry and Neglected" Skin
Written by: Megan O'Neill
|
Published on: September 27, 2022
"Being a twin feels like a superpower," says Marlien Rentmeester, the 51-year-old founder of the fashion blog Le Catchwho shares more than a beautiful olive-toned complexion and incredible style with her identical twin sister, Coliena (their impossibly flawless skin and way with tiered maxidresses, filmy skirts, and sleek evening gowns also qualify as superpowers). "When Coco and I are in New York, we're going running along the Hudson or having dinner somewhere downtown, like Bar Pitti. When we're in LA, we're jumping into the ocean in Malibu, or we're at my house and she's stealing clothes from my closet." The sisters, both mothers to two teenagers, also steal/share each other's skin care and makeup—goop, Beautycounter, and RMS are favorites.
Marlien's I'm-Not-Tired Trick

goop Beauty
GOOPGLOW Microderm
Instant Glow Exfoliator
goop, $125/$112 with subscription

SHOP NOW

Coliena's Eye-Brightening Secret

RMS Beauty
"Un" Cover-Up
goop, $36

SHOP NOW

Their Inky Mascara Obsession

Beautycounter
Think Big
All-in-One Mascara
goop, $30

SHOP NOW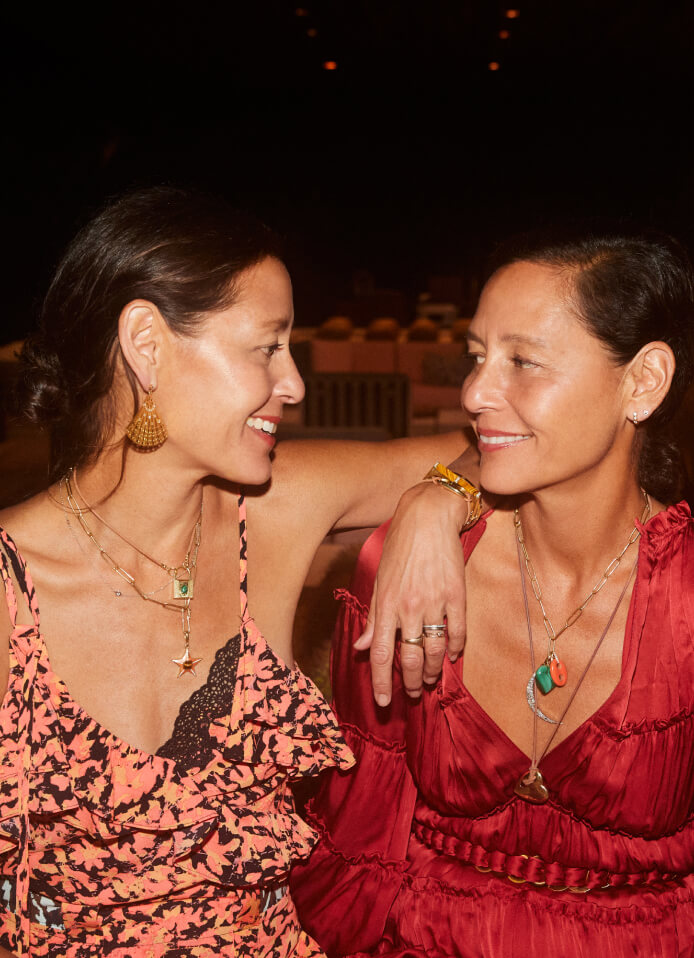 "Being a mom has aged me, so I need more under-eye concealer these days," laughs fashion photographer Coliena, who calls both LA and Tribeca home. The twins' easy beauty routines, outdoorsy lifestyles, and spirit-nourishing work (they also run Oui Want together, a platform where they curate and style some of the most beautiful new and loved brands—if you're on the prowl for something swisy, flattering, and whimsical, check it out) all play into their noticeable glow. So do genetics: "Our dad is Dutch, with olive skin, and our mom is Indonesian. She's 86 years old but could pass for 65," says Marlien. "Probably because she doesn't go in the sun."
The sisters do go in the sun, however. "We have the same skin type: dry and neglected," deadpans Marlien. "We're in the sun all the time—surfing, waterskiing, running. We used to be delinquents about skin care, but now when I look at Coco and see wrinkles, I'm like, Okay, I've gotta start doing more. Looking at each other is incentive." Here, their joint (and clearly extremely effective) strategy.
1
If you do nothing else, exfoliate.
"I worked with Jean Godfrey-June at Lucky magazine a million years ago when I was a fashion editor, and she was like, 'Exfoliate—just do that!'" says Marlien. "It's true; it makes the biggest difference. I use Microderm a few times a week, and the Sleep Milk serum is my new savior. It's got alpha hydroxy acids and moisturizing extracts. You apply it before bed, and it works overnight—it's like GP knew exactly what my skin needed and made it."

goop Beauty
GOOPGLOW Dark Spot Exfoliating Sleep Milk
goop, $98/$89 with subscription

SHOP NOW
2
Light up your skin with low-key makeup.
Both Rentmeesters go for silky formulas that take no skill—or time—to smooth on for a subtle, healthy-looking sheen. "I do a little tinted moisturizer from Beautycounter or Iris&Romeo concealer, plus Beautycounter cheek tint and lip gloss," says Coliena .
Beautycounter
Dew Skin Tinted Moisturizer
goop, $50

SHOP NOW

Beautycounter
Beyond Gloss
goop, $32

SHOP NOW
Marlien's everyday approach is similarly effortless. "I almost always have goop lip balm with me, and I fill in my brows with brow gel for definition and a sculpting effect. For special occasions, I dab a little RMS highlighter along my brow bone and cheeks ."

goop Beauty
GOOPGENES Clean Nourishing Lip Balm Trio
goop, $48

SHOP NOW

RMS Beauty
Living Luminizer
goop, $38

SHOP NOW
goop Pick

Rye Beauty
Brow Grooming Serum
goop, $42

SHOP NOW
3
Drench your skin in moisture.
Coliena wakes up her dry skin with the surge of peptides and brightening bakuchiol in the Beautycounter moisturizer. "The texture feels suuuper light," she says.

Beautycounter
Countertime Tetrapeptide Supreme Cream
goop, $98

SHOP NOW

goop Pick

Tamara Dutta
Rosehip Smoothie Balm
goop, $150

SHOP NOW
Marlien follows three steps for intense hydration: "Layer the goop face oil, which I love, under a rich balm, like the one from Oak Essentials—it's like buttering a bagel, but for your face," she says. "And then I love goop eye cream: 'Oooohlet's put this on.'"
goop Beauty
GOOPGENES All-in-One
Super Nutrient Face Oil
goop, $98

SHOP NOW

goop Beauty
GOOPGENES All-in-One
Nourishing Eye Cream
goop, $55/$50 with subscription

SHOP NOW
4
Show some skin.
A smooth thigh or strong, sun-kissed arms are almost always on display in whatever swisy, casually sleek getup the sisters are wearing. "I just glob the goop body butter all over me," says Coliena, who's currently loving pieces from Maison Mayle (Marlien, on the other hand, has lately been into La Ligne and MOTHER denim). "My skin is so dry, and I love the idea of ​​covering myself in something clean."
goop Beauty
GOOPGENES Nourishing Repair Body Butter
goop, $65/$50 with subscription

SHOP NOW

goop Beauty
GOOPGLOW Microderm Instant Glow Body Polish
goop, $48/$43 with subscription

SHOP NOW

G. Label
Tanya Tile – Print Minidress
goop, $565

SHOP NOW
5
Slather yourself in mineral sunscreen.
"When I'm surfing, I wear Supergoop sunscreen. It makes my entire body glow, and I love it," says Marlien.

Supergoop
Play 100% Mineral Lotion SPF 30 with Green Algae
goop, $36

SHOP NOW

Netta
Ruched Swimsuit
goop, $225

SHOP NOW
6
Don't fuss too much with your hair.
"We grew up in New York and still have that relaxed sensibility," says Marlien. "We just wear our hair up so that no one can see what's going on."
"The default is a quick bun," agrees Coliena. "I work out every morning, and I'm just so sweaty, I wash my hair every day."
goop Picks
Aquis
Flip Hair Drying Tool
goop, $50

SHOP NOW

Slip
Silk Scrunchies – Small
goop, $39

SHOP NOW

Manta
Manta Pink Hairbrush
goop, $30

SHOP NOW
SHOP SKIN CARE

Recommended Reading
My Sister: Oleema and Kalani Miller
My Uniform: Brooke DeVard Ozaydinli
Hello, My Age Is: 50 | Marlien Rentmeester